Home Improvements that Bring the Highest Return on Investment
There are certain improvements to any property that can boost the resale value.
ROI is a measure of how much money is earned relative to the amount of money spent on an investment. Owning a home is a big investment and renovating your house can cost a lot but it often increases your overall property value at the time of sale.
Factors that can affect the ROI of a home remodeling project
The factors that can affect the overall return on a home remodeling project often vary by buyer preference, location, and market trends. While making renovations to your house, thinking of the future and what buyers are looking for can increase the property's value when it comes time to sell. Don't "over-improve" your property unless you are doing it for your own lifestyle benefit. Investing $80,000 into a landscaping project for a house that's valued at $180,000 is not wise from a return perspective.  Consider how long you may keep the property and this may guide you better when it comes to prioritizing home improvement projects.
Bathroom Remodeling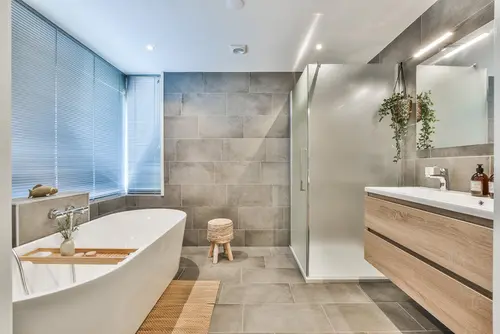 Bathroom remodeling is one of the home improvements that brings the highest ROI. It has a return on investment of 71% and if a bathroom is added to the house, the ROI is estimated at 63%. Bathroom remodels usually start at $5,000 and average $10,978 depending on the size of the room and the project scope. Adding in a bathroom will usually cost between $7,000 and $12,500 on average, but it can be as high as $80,000.  Your selection of finishes, labor, and the extent of renovation will affect the overall cost.
Kitchen Remodeling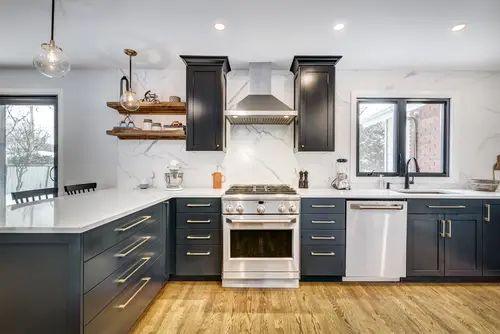 Home buyers are looking for a place to drink their coffee and enjoy entertaining guests which is why kitchen remodels bring in a 75% ROI. The kitchen is by far the most important room in the house for a buyer. A stunning kitchen not only dramatically increases the value of your home but makes the sale process a lot easier. Refreshing your kitchen, which involves installing new appliances, painting cabinets, and updating hardware has an ROI of 67%.
Basement Remodeling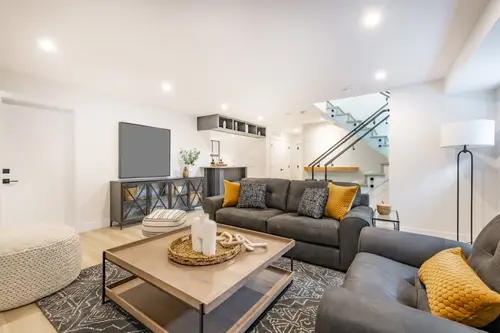 9% of all homes in America have a finished basement according to the U.S. Census Bureau report. This is why buyers are looking for this scare but important detail in potential houses. Basement could be another vital living space in your house which is why investing in this area can be a wise use of your remodeling budget. It can also give your home an edge in a competitive market. U.S. Census report states that basements are "becoming essential living spaces for families and entertaining". The average return on a basement conversion to a living area is 86%.
Home Addition
An added bathroom and bedroom are just a few house additions that have a high ROI. Adding a bedroom can have up to a 56% return. When it comes to reselling a house, most people will look for 3 bedrooms at minimum. Adding another bedroom to help meet that threshold can change the property value and the attractiveness of your home to buyers. Adding a primary bedroom suite within the addition can bring in 56% ROI. This project without a doubt is one of the more complex and expensive to consider.  If you have a large family, adding a bedroom and a bathroom will be a huge benefit, regardless of the income generated at the time of the sale.
Exterior Upgrades (Roof, Siding, Window and Door Replacement)
The exterior is the first thing buyers see when they approach your house. Not only is it important for buyers but also the exterior is the house's structure that keeps your family safe. Investing in new windows and doors brings benefits beyond financial return. The improvement in the quality of living and energy efficiency savings are just a few benefits of this home remodeling project. Installing a new roof will have a 100% return on investment and so will installing a new garage door. New windows will have a 63-67% ROI when comparing wood and vinyl and doors 60-63% when comparing fiberglass and steel front door.
Remodeling is not an easy task and while it can be expensive, messy, and sometimes frustrating, putting in the effort is definitively worth the overall outcome. Selecting improvements that have the highest return on investment will help you generate the most profit out of your current home and give you an opportunity to purchase a more desired property in the future.